NEW BOOK: ESOTERIC EMPATHY: A Magickal & Metaphysical Guide to Emotional Sensitivity
(released on Llewellyn in WINTER 2016)
While traditional psychics receive mental impressions, empaths naturally have their emotional receptors turned on high. Empathy can give rise to profound healing, love, and spiritual and magickal progression — or, if left uncontrolled, it can be a painful experience of emotional overload. Esoteric Empathy teaches readers the ins and outs of empathy and encourages self-awareness through meditation, rituals, and other proactive exercises.
This highly accessible book is essential for those whose emotions fuel their spirituality. Whether you experience empathy on a regular basis or simply want to know more about this fascinating topic, this book provides much-needed answers about the emotional abilities that are ushering our species into a new phase of conscious evolution.
NOTE: NOW TAKING PRE-ORDERS for signed copies! These will be shipped after Samhain. Please include your mailing address :)
Planetary Spells & Rituals: Practicing Dark & Light Magick Aligned with the Cosmic Bodies
(Llewellyn, 2010)
Organized by the planets (including Earth, Sun, and Moon), these powerful spells are aligned according to astrological energies. This includes 55 significant rituals that can be easily customized according to one's magickal and spiritual path. From personal growth to practical concerns, you'll find numerous workings, including the following: Glamoury, healing childhood wounds, exorcism of a house or property, revealing truth, divination magick, halting gossip, safety in travel, summoning love (from inside and out), mending quarrels, banishing heartache, physical healing, etheric cleansing, grounding, breaking addictions, cursing a violator, releasing anger, cord-cutting, breaking through stagnation and sorrow, drawing abundance, croning and saging (Second Saturn Return), summoning the ancestors, guiding the dead and dying, averting the evil eye, uncrossing and curse-breaking, weather magick, psychic work, prophetic dreaming, scrying, binding, past-life regression, ritual death, and spiritual rebirth.
Shadow Magick Compendium: Exploring Darker Aspects of Magickal Spirituality (Llewellyn, 2008)
Exploring the shadow—in its variety of forms—is not only safe, but is necessary for balance and healing. Raven Digitalis invites you to navigate inner and outer darkness and harness the shadow for spiritual growth. Shadow Magick Compendium includes ritual meditations for exploring past experiences, dispelling harmful behavior patterns, and healing a fractured soul. Learn how to safely perform fasting and other methods of self-sacrifice, learn about crosscultural mysticism, get in touch with your spirit animal, take advantage of the dark moon and eclipses, and learn the history of the European Witch hunts. Discover methods of godform assumption, shamanic journeying, and the magick of the dying season. From astral journeying to sigils to dark herbs, you'll find an array of magickal techniques to navigate the shadows and mysteries of yourself and the world at large.
Goth Craft: The Magickal Side of Dark Culture (Llewellyn Worldwide)
Raven Digitalis explores the dynamic intersection of dark culture and occultism in Goth Craft. The book introduces many kinds of Goths and Witches, and the philosophy of each. It covers the basics of magick and beyond, with special attention to blood magick, death magick, and necromancy. You'll also learn how to proactively channel dark emotions, and express spirituality through clothing, hair, makeup and body modification. Also covered is vampyrism, BDSM, gender/sexuality issues, and the magickal-spiritual use of drugs. From working shadow magick to spellcasting on the dance floor, Goth Craft revels in the exciting convergence of two vital lifestyles.
I've also had the pleasure of being on these amazing magazines! (some are print rags, and others are e-zines! Click for more info.)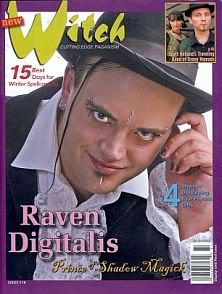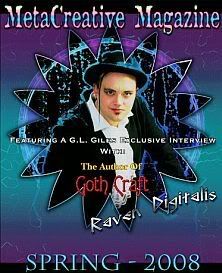 I also have articles in many Llewellyn annuals, including the Magical Almanac, the Witches' Calendar, the Witches' Companion, and the Spell-A-Day almanac! I also sometimes contribute to the magazines Dragon's Blood, the Ninth Gate, newWitch, and Spellcraft. I also have some articles online at www.witchvox.com (if you don't have an account with them, I highly recommend it!), www.llewellynjournal.com, and am interviewed on numerous websites (just Google "Raven Digitalis interview"). Cheers!!
29 comments on "[ Author ] (books)"
Leave a Comment